New Oddka Flavored Vodka and a Strawberry Basil Fresh Cut Grass Martini
The holidays are upon us!  Are you running around like crazy trying to get everything done or are you just about finished?  Are you baking or making cookies for a cookie swap?  Are you hosting Christmas get-togethers at your house or headed to family and friends' houses to celebrate?  I'm doing it all but I'm not complaining.  This time of year is always so busy but I enjoy every minute of it…especially the parties!  I have been baking and making cookies and having people over and have lots of plans to go to family and friends' houses to celebrate this year.
So I'm happy to tell you about a new brand of vodka from premium spirits and wine company Pernod Ricard that's now available in Alabama (Massachusetts, Pennsylvania and Rhode Island, and will be expanding its national and global distribution in spring of 2013) and their amazing new flavors!  It's called ODDKA® by Wyborowa.
ODDKA® is available in 750 ml bottles for the suggested retail price of $15.99 in original, clear vodka (40% alc./vol., 80 proof) and five unconventional flavors (30% alc./vol., 60 proof):
Favored vodka is popping up everywhere but it seems we are seeing the same things over and over.  ODDKA® has come up with these new flavors that are perfect for any holiday party or just relaxing after a long day at the mall.  The flavors are wonderfully different and the possibilities for fun cocktails are endless!  I've already got several I'm thinking I'll make soon.  Take a look:
Apple Pie: For when you desperately yearn for the sweet taste of apples and cinnamon and can't get one of grandma's apple pies. Mixes best with Fanta, Coke or Ginger Ale.
Electricity: A bolt of lightning in a bottle—but safer; tickling taste buds and sparking curiosity everywhere.
Fresh Cut Grass: Nothing beats this home-mown taste; it's crisp, citrusy, sweet and refreshing. Mixes best with Dr. Pepper, Ginger Beer or Soda Water.
Salty Caramel Popcorn: If ODDKA were a movie, this flavor would be a caramel comedy with a sea salt subplot and a warm, feel-good ending. Mixes best with Fanta, Ginger Ale, Coke or Iced Tea.
Wasabi: This tribute to the spicy burn of the sharp Asian condiment will satisfy your craving for something fiery. Mixes best with Ginger Ale and is perfect for a Bloody Mary.
I made a Strawberry Basil and Fresh Cut Grass Martini that would be amazing now or any time of year.  Just think of the possibilities!  I'd put the Apple Pie in hot apple cider or ohh a hot buttered rum!  Electricity sounds exciting so maybe I'd just add it to soda and let it speak for itself?  And I think the Salty Caramel Popcorn would be my favorite.  I'm ready to go get some now!  I'll use it in a martini with caramel cream liqueur and a hazelnut liqueur and I'll drizzle the glass with caramel and salt the top.  Whoa!  The Wasabi would be best in my opinion in a bloddy mary.  I normally use a bacon vodka and I like it but we all know I love spice so this is definitely for me!
Genius concept on the flavors but I also have the pleasure of introducing you to Wit Oddaski!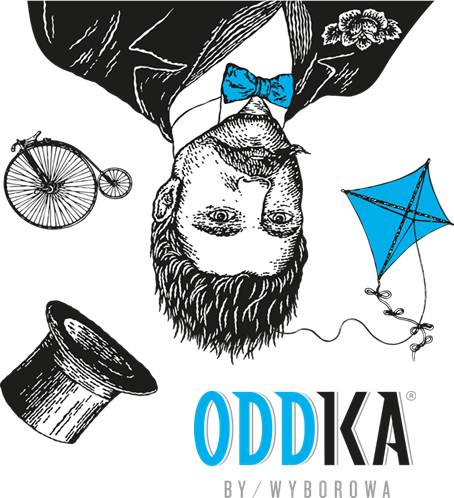 Cute, right?  Or should I say handsome?  He's a character for sure!  He's the voice and inspiration of ODDKA® by Wyborowa and he's a virtual character in the real world, born as a 2-D line drawing with a rare condition that leads him to view the world a bit differently than others.  Check out this interview with him on the family business.

Fans can also interact with Wit via the "ODDstache" mobile app, available for free download on iTunes.  How fun is that?  I'm heading over now to get it.  You KNOW moustaches are everywhere!  Don't you want to see what you'll look like sporting a stache???
Using the ODDstach app, anyone can grow their very own virtual mustache using a photo of their choice.  To mature, the mustaches need tending; growth can be accelerated with grooming, feeding and by sharing with friends on Facebook—the more "Likes" received, the more ODD it will grow!  Let's see what we can do?
To learn more about ODDKA and Wit's adventures, "Like" ODDKA Vodka on Facebook or follow Wit on Twitter at @WitOddoski.
This is a sponsored post written by me on behalf of Oddka.
Strawberry Basil and Fresh Cut Grass Martini
4 ounces ODDKA® Fresh Cut Grass flavored vodka (if you don't have Fresh Cut Grass flavor, use regular ODDKA® vodka for a super smooth finish)
4 fresh strawberries, sliced thin
juice from 1 whole lemon (I used a Meyer lemon)
10 fresh bail leaves, torn into small pieces
4 tablespoons (or to taste) simple syrup
2 cups crushed ice
soda water
In the bottom of a shaker, add strawberries, lemon juice, simple syrup and basil leaves and using a muddler with teeth, crush and bruise the basil and strawberries as much as possible.  You're making a slurry or sludge consistency.
Add ODDKA® Vodka and crushed ice to the shaker and shake vigorously.  
Pour into 2 martini glasses and top with a splash of soda water.
Enjoy!
What flavor will you choose first???